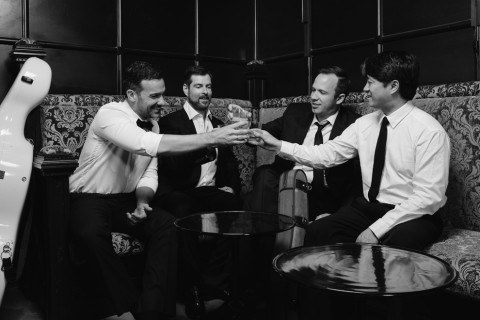 By Robert Zaller for Broad Street Review
The modern clarinet, the last developed of the four orchestral wind instruments, dates from the late 17th century. Vivaldi and Handel both wrote for it, and in due course concertos were produced for it. Mozart, though, showed relatively little interest in the instrument, until he heard the playing of one Anton Stadler, to whom we should all be grateful. It was Stadler for whom Mozart wrote the two greatest works for clarinet ever composed, the Clarinet Quintet, K. 581, of 1789, and the Clarinet Concerto, K. 622, written in the last year of his life,
We don't know how Stadler played; we're only glad that he did. We do know how the principal clarinetist of the Philadelphia Orchestra, Ricardo Morales, plays, and that is as well as anyone in the world today. I had the luck this year of hearing him play K. 581 twice this year, at the Miró Quartet's recital at the Perelman Theater this past week, and in an unannounced post-concert performance with four of his orchestra colleagues a few weeks back. The more intimate surroundings of the Perelman suited the music better than the cavern of Verizon hall, but Mr. Morales was superb on both occasions.

Ingenuity, sophistication, and wit


The Mozart capped the Miró's evening, which began with Haydn's Quartet in D, Op. 20, No. 4 and proceeded to Alberto Ginastera's Quartet No. 1. Early Haydn was at a discount not long ago; his substantial symphonic oeuvre was regarded as beginning with the Paris and London symphonies of the 1780s and 1790s and his quartets from the Op. 33 set. It's only rather recently that much attention has been paid to Haydn in his 30s and 40s, the Sturm und Drang symphonies nos. 44-49 aside. Haydn's six Op. 20 quartets, collectively nicknamed "The Sun," were written in 1772 when he was already 40, and they are fully mature compositions. The fourth of the group, played on this occasion, begins with a ten-minute allegro di molto built on an opening four-note motif that is developed with great ingenuity, sophistication, and wit, and at 25 minutes, it is a work of unflagging invention and interest.
It would be a decade before Mozart caught up with Haydn, extraordinary as his own early essays in the string quartet are. Haydn had the field to himself in the early 1770s, but one can trace the form's evolution through him over the course of a quarter of a century. It is rare for a composer to have a genre essentially to himself for such an extended period, with no one to compete against — certainly at his level — but himself.
You needn't ponder the historical significance of the Op. 20 quartets to enjoy them unreservedly, but understanding that significance adds to one's appreciation. It's easy to think of Haydn as a man taking gracious musical strolls through the parks of his Esterhazy patrons. Maybe, though, we should regard him more as a man on a spacewalk, going where no one had gone before.
The playing of the Miró, in its first return engagement in several years, was impeccable. In this as in the other works of the program. Joshua Gindele's cello was positioned behind Daniel Ching's first violin, which made for slightly different balances but a no less rewarding performance.

Escaped from a black hole


Alberto GinastAlberto Ginasterara (1916-1983) is, like Heitor Villa-Lobos in Brazil, the one composer by which his country — Argentina — is essentially represented in the international repertory. He was a find in the 1960s when his operatic works had well-received stagings, but he is a bit of a reclamation project in his centennial year. His 1949 String Quartet No. 1 is an engaging work that shows a thoughtful assimilation of Bartok, but has its own Latin-inflected energies and an impressively searching slow movement.
South America has sometimes seemed a black hole from which few names, almost all literary, have emerged and stuck — Neruda, Vallejo, Borges. This year, a major retrospective of Uruguayan painter Jaime Torres-Garcia, whom I've long admired, has sought to put him on the map of artistic modernism. Ginastera deserves his own place there, and, in the absence of space in the orchestral repertory (our local band's gotta do ###em/em###Tchaikovsky, and, this year, three works of John Williams), chamber groups can at least help him get a hearing, especially in vigorous and obviously appreciative performances such as the Miró's.

Playing with pleasure


Which brings us to the Mozart Quintet. Ricardo Morales is a musician not only worth listening to but watching, something hard to do in an orchestral mass, because he so obviously relishes his instrument and every sound he can produce with it: it's a pleasure watching his pleasure, as well as sharing the results. A great musician playing with a small ensemble can sometimes make his colleagues more comfortable, or sometimes less. You can't not share the infectiousness of Morales's music-making, and the Miró Quartet obviously did: particularly beautiful was a quasi-duet between Morales and Daniel Ching, like fingers delicately touching at a distance.
The Miró's program was substantial, but they offered the perfect encore: the Larghetto of the Quintet, played over again after the conclusion of the whole. Nineteenth-century orchestras used to encore particularly well-liked movements from their programs at the prompting of the audience, and though that kind of participatory democracy is out of fashion these days, Morales and the Miró gave us the perfect end to their evening: perfection, twice.