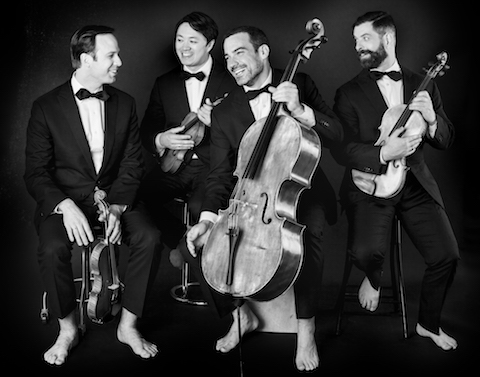 By Carl Straussner for The Boston Musical Intelligencer
Arriving at the lustrous Shalin Liu Performance Center in Rockport on Saturday, I was pleasantly struck by the thread of normalcy that seemed to have, if perhaps only temporarily, returned to the quaint seaside town. A warm late-summer afternoon saw scores of people on the streets, walking around the town in summer attire and enjoying local restaurants. The view from inside the concert hall painted us a wonderful backdrop of boats, water sport enthusiasts, and the odd seagull floating by to take a listen to the mighty Miró quartet perform an emotive program. 2012 Pulitzer Prize winner Kevin Puts's Home (written for Miró and co-commissioned by Rockport Chamber Music Festival and six other presenters) immediately drew us into pensive reflection; Brahms's Clarinet Quintet in B Minor, op.115 would feature clarinetist Anthony McGill, whose masterful control and uniquely sweet tone made this quintessential cornerstone of late Brahms shine.
Home reflects exquisitely on the ongoing global refugee crisis, particularly in Europe. Its deeply pensive and emotive opening theme resonates in beautiful consonances as the combination of open strings and largely C-major sonorities summons up comfort, familiarity, and safety, establishing the metaphorical home. One could hardly think of be a better depiction. The use of scordatura here (each instrument is tuned to a C major arpeggio), really increases the resonance of the group and the net effect is a beautifully tapestry of sonorities, bending in and out of shape as the first and second violins take turns echoing understated and simple melodies, falling familiar on the ear, like the sounds of home.
As the beauty of the opening comes to a climax, playfully light and delicate passages frolic about in the middle register of the violin. These new micro-themes soon turn quite menacing as ensemble members take turns uttering different permutations of this menacing idea, successfully drawing us away from the comfort we had just experienced with a safe and steady backdrop. A state of confusion increases as our ears search for something familiar to cling to ― almost as if the drone like underpinning of the safe opening theme had now been pulled from under our feet, leaving us floating above a myriad of haunting melodies, each utterance more powerful than the next. It felt as if the very ground beneath my feet was constantly shifting, leaving nothing but a void of trauma, warped memories, and disillusion; the safety of the past, now distorted, resulting in unsettling discomfort.
Soft harmonics emerged from the whirlwind, giving us a momentary glance at solace, until the music was yet again driven forward by the reentrance of some familiar themes of home ― only this time, beautifully re-worked to represent the feeling that things will never be the same, and to evoke the memories of home now functioning as a somber reminder of the crisis that brought us here. Miró first violinist Daniel Ching remarked "…he is [Puts], indeed, an activist and he does this through his music", a sentiment that shone through not only the composition itself, but also through its masterfully enigmatic performance by a foursome whose magical rapport unleashes moving conviction with every crescendo. The quartet has a fundamental mission in music education and became the first ensemble ever to win the Avery Fischer career grant, an excellent achievement that has provided them with ample resources to make the best possible cases for groundbreaking new works.
Puts and Miró exemplified the contemporary relevance of composition; after all "Just over a hundred years ago, Brahms was new music too!" as Artistic Director Barry Schiffman remarked in his intro.
After a markedly quick pause, the quartet emerged with Anthony McGill, who not only was the first African American to become a principal player (New York Philharmonic) but has also had an extensive solo and chamber career, notably premiering a piece by John Williams with such auspicious company as Itzhak Pearlman, Yo-yo Ma, and pianist Gabriela Montero for the inauguration of former president Barack Obama. A wise choice here considering that Brahms himself came out of retirement to write crowing valedictory works for clarinetist Richard Mühlfeld. "The clarinet cannot be blown more beautifully that by this Mühlfeld" remarked Brahms, noting his delicate phrasing which he deemed ultimately feminine, hence Brahms's nickname for Mühlfeld ―"Fräulien Klarinette".
Within the first few bars of the opening Allegro, it was clear that we were witnessing something very special. The intimacy of McGill's tone blended against lively passages in the violin to perfection, as the strings seamlessly followed subtle tone changes McGill brought forward. The violins take a more supporting role in the Adagio, allowing McGill to deliver large intervallic leaps in the middle of the movement tied together by beautiful shimmering runs that effortlessly flourished atop a full-bodied cushion of harmony below, finessed out by an engaged foursome.
Although having included substantially technical and virtuosic passages, Brahms focused more on the clarinet's expressive tone, since that was what he admired most in Mühlfeld. Throughout, McGill delivered excellent, dark and rich tones that complemented to the strings, while also retaining a timbre which exemplified Brahms must has sought. In the third movement, solidarity in direction from all the players, not only exemplifying the lead voice, but also, by giving the music intention and direction, lead us beautifully into the Con moto final movement, which tied together musical themes and allowed each player to sing out in a lively finale. As Karl Geiringer notes in his book, "Brahms: His life and works":
"…it is a work of retrospection, a farewell. Pictures of the past, pleasures and sorrows, longing and hope, pass before the elderly master, who expresses them once again in delicately restrained and melancholy tones. Hardly anything new is to be found in this composition, it is rather a powerful synthesis of significant features of the master's work".
Anthony McGill and the Miró Quartet gave us nothing less than superb mastery, vision, and charisma. Bravo!