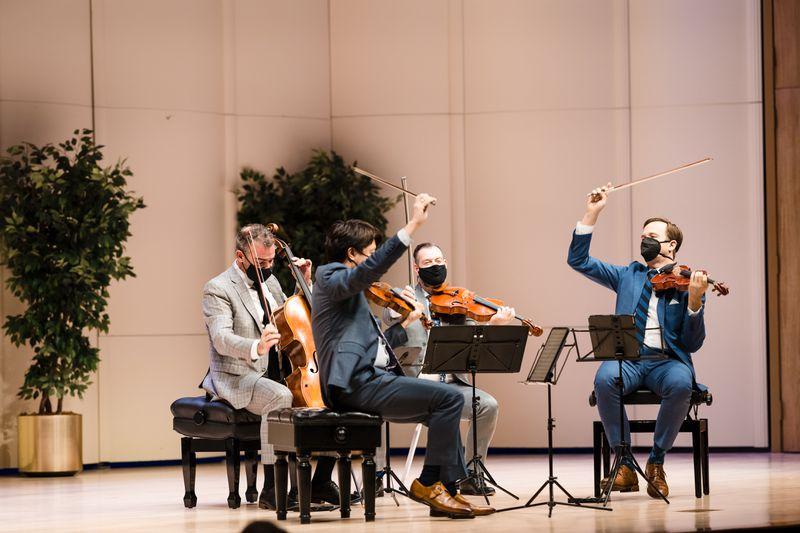 By Elizabeth Nonemaker for the Baltimore Sun
An air of relief marked the opening of Shriver Hall Concert Series' 2021-2022 season Sunday night. It had been 617 days since the series last staged an in-person concert, as board chair Regina Anderson reminded listeners in opening comments.
Not that anyone's counting, she might have wryly added. Reopened doors pose a concern to presenters as well as audiences: Is live performance something people still want in this era of streamed concerts? Is it worth putting on shoes, or pants for that matter, and braving the autumn chill when you could more easily power up your laptop?
The Miró Quartet's performance last night offered a resounding affirmation: Nothing can replace this.
The Austin-based and internationally celebrated string quartet played an electrifying evening of music; with standards by Mozart and Beethoven sandwiching a world premiere composition by Caroline Shaw, the program underscored the longevity of the art form. In that context, even the occasional hacking cough (masks were required) and cellphone ping felt like a homecoming.
The concert opened with Mozart's String Quartet No. 17 in B-flat major, K. 458 — nicknamed "The Hunt" for its triadic melodies that recall hunting horns. It's a rollicking, joyful piece, and from the opening bars Miró played with a unity that was almost disorienting. At their best, Miró move and breathe as one instrument; that there are four people onstage seems like a trick of the eyes.
Despite some pitchiness from first violinist Daniel Ching in the Mozart (who, to be fair, is also frequently the most exposed player), Miró's sound was explosive and expertly delivered, and the playfulness of the Mozart set the stage for the world premiere of Caroline Shaw's "Microfictions [Vol. 1]."
Inspired by the work of artist Joan Miró and the speculative flash fiction of T.R. Darling, "Microfictions" is a set of six musical miniatures, each movement titled with Shaw's own evocative microfictions. They're among the best arguments for why composers should treat titling as a work of art in itself.
Take the third movement: "The summer storm laughed and lilted and shouted until it found a shady spot, beneath an oak's dappled counterpoint." The text and music (which, in the score, Shaw describes as "a jumbly smear") collaborated seamlessly, and each was better for it. The exception was movement "III & 1/2," when, per the title, "the second violinist stood up and said hello to the audience. Everyone was grateful to know which movement they were on." As text, this is a funny, whimsical moment. In execution, it felt unnecessarily cutesy, and without the benefit of a program, a listener would likely feel confused and taken out of the music.
There were a few standout moments in this piece. The opening of the third movement was one; so too were ethereal, organlike harmonies at the end of the second and sixth movements. Otherwise, there was a surprising reliance on a blocky, chord-plus-melody handling of the material for a piece that purports to be about texture. The result: passages that were always beautiful on their own, and delicately executed by the quartet, but as a whole felt somewhat monochromatic.
The memory of this concert's finale — Beethoven's String Quartet No. 15 in A minor, Op. 132 — is one I'll savor for many years. Beethoven composed this work after recovering from an illness he was convinced would take his life. This is a program note that, while interesting, doesn't typically elevate the music: It speaks for itself. A listener doesn't even need Beethoven's header — translated as "holy song of thanksgiving of a convalescent to the deity" — to be transported by its reverence.
However, the context of the evening — its affirmation of music after nearly two years of a deadly pandemic — achieved the impossible by giving this work even more poignancy. Miró stretched the crowning third movement to its languorous extreme, clocking in at roughly 20 minutes. (Some quartets perform it in just 15.) That tempo is not without its risks: In lesser hands, the music could become flat, or, God forbid, boring. Miró's execution was riveting. After that, the fifth and final movement — perhaps the happiest music ever written in a minor key — felt like one breathless tumble downhill, propelling stratospheric, locked-in duets between Ching and cellist Joshua Gindele.
Shriver is back, and with them, a whole roster of artists of the caliber of the Miró Quartet. Cause indeed for a "holy song of thanksgiving."