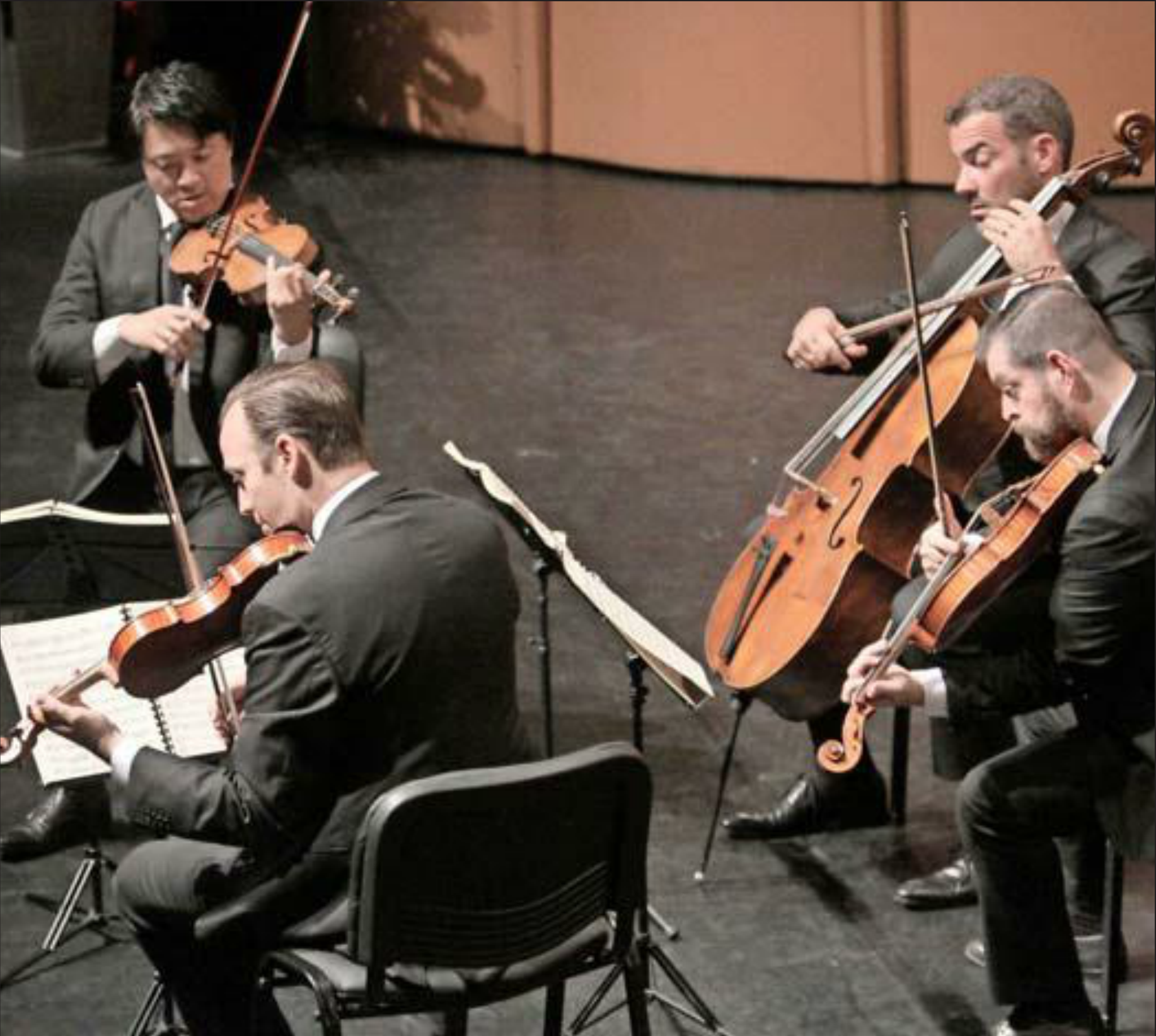 By Gonzalo Saavedra for El Mercurio
Miró Quartet: The Monument
In October of 1828 Schubert announced in a letter to his publisher that he had finished three sonatas for piano and a string quintet for two violins, viola and two cellos in C major. The composer had displayed these sonatas in various locales with himself at the keyboard and he expected that the Quintet would also be performed soon. But only a few weeks later he himself had died, and this, one of the masterpieces of his output--and indeed of all the music that exists--would be neither published nor released in the two decades that followed.
On Tuesday, on the Fundación Beethoven's "Fernando Rosas" series, the excellent Miró Quartet (Daniel Ching and William Fedkenheuer violins, John Largess viola, Joshua Gindele cello) plus Andrés Díaz on the second cello, addressed this monumental work with great inspiration, delineating the continuous contrast between light and shade which inhabits its four movements. From the very opening in its apparent calm, Daniel Ching shone forth as confident, sober yet resolute, well seconded by his colleagues. The second theme, with Gindele and Díaz as protagonists, sounded warm, a sort of musical haven that served only to highlight the tragic character that transcends the totality of the piece. The Adagio, exceedingly sad, with the sobs of the first violin above the others' dramatic chords and the pizzicati of the second cello, plunged the audience of the Teatro Municipal de las Condes into a silence of active contemplation more than once.
The problems with the cello that Díaz used in this performance, and that required the Chilean to tune after each movement, became more apparent above all here in the powerful scherzo which followed, indeed a pity that he and all of us resented, except that it failed altogether to overshadow the interpretation. This score can surmount even these disadvantages. The finale, a complex rondo with its characteristic syncopations, was a triumph, which doesn't abandon its duality between major and minor keys literally until the last note.
The concert had begun with the Quintet for Strings Op 30 no 6, "Night Music from the Streets of Madrid" by Luigi Boccherini (c. 1780), a descriptive work full of originality in its treatment of the instruments, which served as a stupendous introduction. Then the String Quartet Op.20 by the Argentine Alberto Ginastera; the Miró appeared indomitable in this piece, in which folkloric inspiration blended with the European avant-garde to create a most original and brilliant result. A highlight was the potent Allegro Rustico, a kind of malambo (folk dance) of jagged and ever-changing beats.
Concerts such as this rescue the great tradition of the "Fernando Rosas" series: good music of distinct spirit, history and origins, served up with the highest quality, and which the audience rewarded with lengthy applause.
(English translation by John Largess and Cid Escobedo)
Original Spanish Version:
En octubre de 1828, Franz Schubert anunciaba en una carta a su editor que había completado tres sonatas para piano y un Quinteto de cuerdas para dos violines, una viola y dos chelos en Do Mayor. El compositor había mostrado sus sonatas en varios lugares con él al piano y contaba con que su Quinteto se tocara pronto. Pero pocas semanas después murió, a los 31, y esta obra cumbre de su producción -y de toda la música que existe- no se publicó ni estrenó en las siguientes dos décadas.
El martes, en la temporada Fernando Rosas de la Fundación Beethoven, el excelente Cuarteto Miró (Daniel Ching y William Fedkenheuer, violines; John Largess, viola, y Joshua Gindele, chelo), más Andrés Díaz en el segundo chelo, abordó este monumento con gran inspiración, marcando los continuos contrastes entre luz y sombra que pueblan sus cuatro movimientos. Desde la apertura aparentemente calma brilló Daniel Ching, certero, sobrio pero resuelto, bien secundado por sus compañeros. El segundo tema, con Gindele y Díaz como protagonistas, sonó cálido, una suerte de remanso que no hace sino resaltar el carácter trágico que traspasa toda la obra. El Adagio , tristísimo, con los sollozos del primer violín sobre los acordes dramáticos del resto y los pizzicati del segundo chelo, sumió al público del Teatro Municipal de Las Condes en un silencio de contemplación activa como pocas veces.
Los problemas del chelo que usó Díaz en esta presentación y que obligó al chileno a afinar después de cada movimiento se hicieron más patentes aquí, y sobre todo en el potente Scherzo que le sigue. Una lástima que resentimos él y todos nosotros, pero que no logró opacar la interpretación en conjunto. Esta partitura se la puede incluso con esos inconvenientes. El final, un complejo Rondó con su síncopa característica fue un triunfo, que no abandona la dualidad entre las tonalidades mayor y menor literalmente hasta la última nota.
El concierto había comenzado con el Quinteto de cuerdas Op. 30 Nº6 "Musica notturna delle strade di Madrid" (c. 1780) de Luigi Boccherini, descriptiva y llena de originalidades en el tratamiento de los instrumentos, y que actuó como una estupenda introducción. Y el Cuarteto de cuerdas Nº1 Op. 20 del argentino Alberto Ginastera. El Miró se lució con esta pieza indómita y en la que se asimilan la inspiración folclórica y la vanguardia europea con un resultado originalísimo y genial. Para destacar, el potente Allegramente rustico , una suerte de malambo de ritmos quebrados y siempre cambiantes.
Conciertos como este rescatan la mejor tradición de la Temporada Fernando Rosas: buena música de distintos ánimos, épocas y orígenes, servida con una altísima calidad que el público premió con un aplauso largo.
Photo: El Mercurio