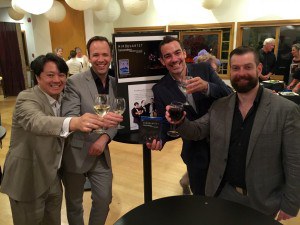 With Investment of Stringed Instrument Collector David Fulton, Intent to Innovate
Miró Quartet "Plays It Forward" with Release of Transcendence
Free downloads of recording available throughout September with education contest announced
ORCAS ISLAND, Wash. (Aug. 18, 2015)— Last night, the internationally touring, Austin-based Miró Quartet held an event during the 18th Annual Orcas Island Chamber Music Festival to announce the exciting details of their new project and business model that will resonate with classical music lovers and supporters of music education everywhere.
On September 1 in celebration of their 20th year, Miró Quartet is parting ways with their record label and taking the reins of their musical career with a unique move that will give people everywhere an opportunity to experience their music for free. Throughout September, the quartet will offer downloads of five albums in their catalogue to which they own the rights – including their latest release, Transcendence, a recording of Franz Schubert's masterwork String Quartet No. 15 in G major, D. 887– at no cost. Fans and music lovers everywhere are invited to download the Transcendence album directly from Miró's new website, or for just $10, they can also receive all five albums and then "play it forward" to a music educator or school music program of their choice, giving them access to Miró's recordings for free.
In Spring 2014, when Daniel Ching, William Fedkenheuer, John Largess and Joshua Gindele were commissioned by benefactor David Fulton to immortalize Schubert's demanding and iconic work with Emmy-award winning director John Forsen and Grammy-award winning producer/recording engineer Da-Hong Seetoo, they knew they had also been given a singular opportunity to change the way they get their music out into the world.
A year later, the highly acclaimed quartet finds themselves blazing a new path and launching an evocative, trans-media project which features a behind-the-scenes look at the group's recording of one of Schubert's masterworks for string quartet, putting new demands on their technical skills and business acumen. Ultimately, they hope audiences will reap the benefits—now and on future releases. Part of the effort involves a totally new website designed to bring visitors closer to the music so they can listen and keep navigating.
"Ever on the forefront of innovation in classical music, Miró Quartet is always looking for creative solutions to enhance the direct connection with our audience," remarks cellist Gindele. "Like the other internationally touring quartets out there, we found ourselves in the record/tour/sell-latest-CD cycle and we wondered if there was another way." By streaming their music and documentary from their website, new and existing fans will have a chance to receive Miró Quartet's music for free, effectively eliminating the barriers to classical music participation and appreciation.
Free Downloads & "Play It Forward" Purchases
In essence, anyone can download Transcendence during September, for free. In addition to the global giveaway, for $10 they can also download four additional albums from the quartet's music catalogue and Miró will offer a "play it forward" option allowing customers to give an educator or school music program of their choosing the opportunity to receive one full free-access download of the quartet's music collection as well. This 1:1 concept is one which stems from the quartet's appreciation of its fans and a desire to expose more people to classical music through online sharing—as well as a nod to David Fulton's generosity.
Available via www.miroquartet.com: Miró Quartet "Transcendence" [NEW], Schubert Interrupted, Beethoven Opus 59 (two discs), Beethoven: The Complete Opus 18 Quartets (two discs), The Miró Quartet Live! The new release, Transcendence, will also be available on iTunes, Apple Music, Amazon, Spotify, Pandora, YouTube and more.
About Franz Schubert and his String Quartet No. 15 in G major, D. 887
Franz Schubert's composition was the largest, longest and last string quartet he would write before his death in 1828 at the young age of 31. Known for its sweeping range of sound and groundbreaking depth, the composition expresses a wide range of emotions – from sadness to jubilation. The entire work was never heard by anyone while Schubert was alive, remaining undiscovered until nearly 22 years after his death. Regarded as one of history's great works for string quartet, the composition transcended the quartet medium and stands as a testament to Schubert's significant contributions to classical music.
The Miró Quartet Transcendence Education Contest
Adding an education and interaction element to the project, Miró Quartet is pleased to announce "The Miró Quartet Transcendence Education Contest." This contest invites school music programs to submit a 30 second video to potentially win a Miró Quartet appearance and master class to be held at their onsite location. Interested parties are invited to view the website for full contest details at: www.miroquartet.com.
Miró Quartet has served as the quartet-in-residence at the University of Texas at Austin Sarah and Ernest Butler School of Music since 2003. All four members believe in the power of music to bring together people of diverse backgrounds and have hosted numerous master classes at universities and conservatories across the globe. Miró Quartet offers a wide range of educational programs including open rehearsals, lectures, panel discussions and coaching that highlights the creative process and offers insight into what it takes to be a successful chamber music ensemble.
Transcendence Blu-Ray
Nominated for two 2015 Northwest Regional Emmy® Awards and winning for the Director – Live or Recorded Live category, Transcendence documents Miró Quartet's recording of Franz Schubert's final composition for string quartet. Directed by John Forsen, the documentary was filmed at Benaroya Hall in Seattle using five cameras to capture a show that is as intimate as the music itself. The Blu-Ray with accompanying CD is available for purchase through several online outlets including Amazon and CD Baby.
About Miró Quartet
Established, innovative and cutting-edge, Miró Quartet breaks the traditional chamber music mold and makes classical music lovers everywhere stop and take notice. Based in Austin, Texas, the quartet formed in 1995 and has served as the quartet-in-residence of the University of Texas at Austin Sarah and Ernest Butler School of Music since 2003. Comprised of Daniel Ching (violinist), William Fedkenheuer (violinist), John Largess (violist), and Joshua Gindele (cellist), Miró Quartet performs their deeply musical interpretations on important chamber music series and prestigious concert stages around the world each year. In the 2015-16 season, the quartet is taking its musical destiny to another level with the release of their Transcendence trans-media project, poised to bring classical music to the masses using a variety of modern methods more common in other music genres. Available on a global scale, the works of Miró Quartet can be found on Apple Music, Amazon, Spotify, Pandora, YouTube and more. Visit www.miroquartet.com for more information.