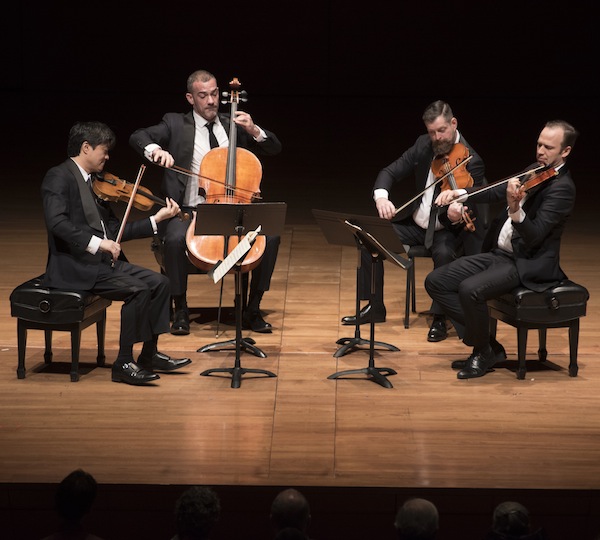 Photo: Tristan Cook


By David Wright for New York Classical Review
Sunday in Alice Tully Hall, the Chamber Music Society of Lincoln Center and guest artists the Miró Quartet gave a virtual seminar in how to play chamber music for strings.
Tight ensemble? Check. Pinpoint intonation? Check. Phrasing as one, down to the smallest detail? Check. Balanced, transparent sonorities? Check and check.

And that's just the technical side. When it came to bar-by-bar insights while keeping the piece's full arc in view, these performances of a Haydn quartet, a double quartet by Louis Spohr, and a Beethoven quintet had few peers.
Ignaz Schuppanzigh would have been proud. Sunday's program was the second in a CMS series titled "Chamber Music Vienna," recreating four concerts that Schuppanzigh—Beethoven's indispensable, unpronounceable violinist during the composer's entire 35 years in the Austrian capital–presented in or around 1825.
In a program note, CMS artistic directors David Finckel and Wu Han wrote of their feelings of kinship with Schuppanzigh, who pioneered the public performance of chamber music, formerly a private home activity that rarely ventured outside the family "chambers."
By focusing his programs on music of the late Haydn and Mozart and the very-much-alive Beethoven, the Vienna-born violinist also played a key role in enshrining those three as the headliners of music's Classical era–not to mention helping to establish the very concept of small-c classical music.
Schuppanzigh occasionally allowed other living composers inside the charmed circle (among them a certain Franz Schubert), taking a presenter's care—then as now—not to overtax his audience with too much novelty.
The 1825 program reenacted Sunday was a Schuppanzigh classic: Haydn's Quartet in E-flat major, Op. 71, No. 3, composed in 1793; the novelty item, Spohr's Double Quartet No. 1 in D minor, Op. 65, of 1823; and a favorite of his subscribers, Beethoven's String Quintet in C major, Op. 29, composed 24 years previously in 1801.
One difference between then and what sometimes happens now is that the Haydn was not treated as a throwaway item before getting to the "meat" of the program. In 1825, Haydn was the meat, and on Sunday the Miró Quartet—Daniel Ching and William Fedkenheuer, violins; John Largess, viola; and Joshua Gindele, cello—gave full attention to the composer's striking ideas, harmonic daring, and fine textures.
One may hear more energized, scrappier performances of Haydn elsewhere, but the Miró players demonstrated that elegant and refined don't equal bland. And playing exactly in time doesn't equal mechanical, either; on the contrary, in Sunday's performance, it made the rhythms pop and dance, while permitting considerable liberties with the tempo.
One might have wished for more variety of tone as Haydn moved into different moods and harmonies–but then, do we complain because a finely polished mahogany table doesn't have more colors?
The second movement, a set of variations, was moving along at a well-gauged Andante con moto when a string broke on Fedkenheuer's violin. Violist Largess regaled the audience with a string-breaking-at-an-inopportune-moment anecdote—all quartets have those—while the violinist replaced the string offstage.

The incident proved something of an icebreaker for players and audience, as the quartet took the Andante from the top with, it seemed, an extra touch of freedom and conviviality. An incisive but light-footed minuet followed, and the skipping finale ended in a flurry of fast 16th notes for all four players, an effect that no doubt wowed Haydn's London audience in 1794 and Schuppanzigh's 1825 Viennese as it did the New Yorkers on Sunday.
Louis Spohr was best known as a leading violinist of his day, but he took well-deserved pride in his compositions, particularly in the exotic genre of double quartet—not the same as an octet, but literally two string quartets side by side onstage, encouraging not just big tutti playing but call-and-response and concerto-like textures.
Concerto style predominated in Spohr's D minor Double Quartet with quartet 1 (Kristin Lee and Cho-Liang Lin, violins; Mark Holloway, viola; and Miró's cellist Gindele) featured as a group and in individual solos, and quartet 2 (three Miró players with cellist Gary Hoffman filling in) mostly accompanying.
In the piece's substantial first movement, one could tell Spohr knew his Mozart and Beethoven as the music stepped out with an angular theme à la the former's "Haffner" Symphony and proceeded with intense motivic development and orchestral effects such as additive crescendos. At the same time, one felt the pull of chromatic, early Romantic harmonies pointing toward Weber and Mendelssohn.
After this heady brew, Spohr disposed of the last three movements quickly: a pointed Scherzo with sharp sforzandos and Haydnesque play with the upbeat, a brief Larghetto on one repeated phrase, and a short, amusingly intricate Finale. The eight players made a compelling case for the piece, indicating depths, especially in the first movement, that would reward more hearings.
Unfortunately, the logistics of the chamber-music business make string quartets as common as dandelions and two quartets onstage as rare as hen's teeth. Almost the same goes for string quintets, and so Beethoven's C major Quintet is a fairly rare concert item as well.
It may not be the most heaven-storming music Beethoven ever wrote, but it is still Beethoven, and the five players (violinists Lin and Lee, violists Holloway and Largess, and cellist Hoffman) delivered the unpredictable twists of its first movement with playing of considerable tensile strength.
A classic early-Beethoven Adagio, leisurely and deeply expressive, followed. Two short movements, a galloping scherzo and a dramatic finale with urgent tremolo, closed the piece in colorful fashion. In unanimity of phrasing and conception, Sunday's pickup ensemble rivaled quartets who have played together for years.
More bold and impassioned string pieces than these would later enter the repertoire—and to his credit, Schuppanzigh presented every one of Beethoven's new quartets as it appeared, no matter how far-out it must have seemed at the time. But in 1825 terms, it would be hard to imagine a chamber-music concert more vividly played than Sunday's performances by CMS and the Miró Quartet.