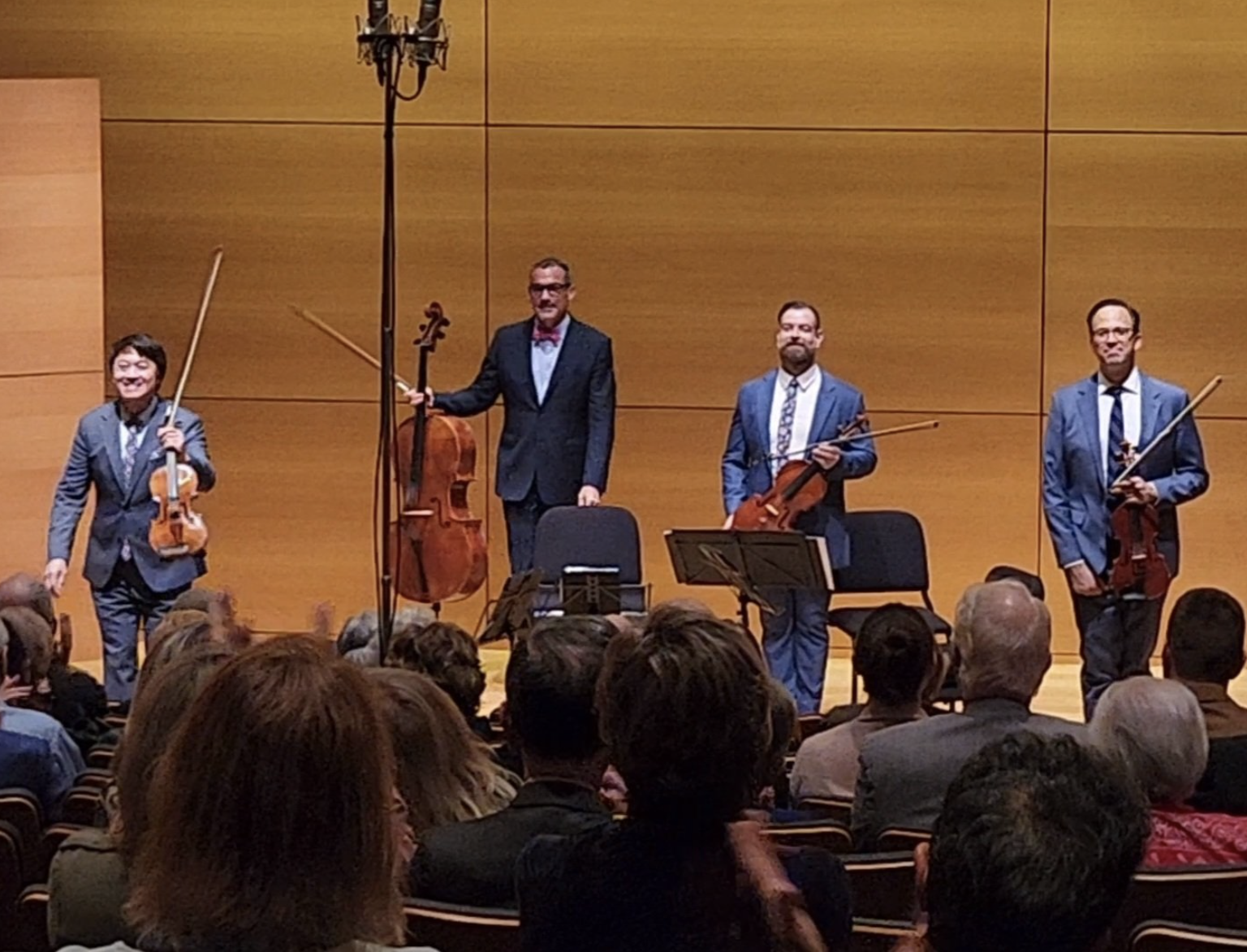 By Gregory Sullivan Isaacs for Onstage NTX
Photo by Onstage NTX
The Chamber Music Society of Fort Worth opened the second concert in the Beethoven Quartet Cycle on Wednesday evening (November 9) in the Modern Art Museum of Fort Worth. Because of the excitement created by the first concert on Tuesday, there was a frisson of anticipation in the audience as the Miró String Quartet took the stage.
Beethoven waited until he was in his mid-to-late 20s before he took on the string quartet, generally considered one of the most difficult musical forms to pull off. The central problem is that the composer must write for only four voices, a fact that limits the harmonic and textual possibilities. Beethoven, who dreamed of orchestras, struggled to make the most out of the four instruments at his disposal. Hearing the Miró String Quartet presenting his Opus 59 quartets one after another vividly revealed Beethoven's progress towards that goal.
In the first concert of the series, we clearly recognized his earlier influences, including "Papa" Haydn and Mozart. But even as that concert progressed, we heard Beethoven beginning to realize what a flexible ensemble he could have at his fingers.
Right from the start of the second concert, then, the audience felt and heard the composer turning a page in his musical biography. The initial reception to the Opus 59 quartets (written in 1806) was a mixture of quizzical admiration and some downright derision. Beethoven wasn't bothered; his reaction was one of dismissal. He was not writing music de jour, but music for a time yet to come.
The three Opus 59 quartets have much in common: they were commissioned as a set by one of the great music patrons of the era—Russian diplomat Prince Andrey Kirillovich Razumovsky, a longtime resident of Vienna. As a "thank you" to his benefactor, Beethoven included Russian themes and folk melodies that provide a bit of connective tissue among the trio of quartets.
A hallmark of these works is Beethoven's use of contrast, and the Miró admirably displayed their mastery of the technique required. Lyrical passages suddenly explode with dynamic and rhythmic energy. Loudly accented chords are scattered like firecrackers throughout to interrupt the more placid passages. Further, he takes great pleasure in graying the bar lines. He doesn't eliminate them, but hides them with misplaced accent marks, using this trick to trip up the audience. Beethoven loved (and looked for opportunities) to include bits of musical humor. Alas, too many musicians in later generations thought it disrespectful to make jokes in the master's music. Beethoven would have rolled his eyes and thought: I wrote it to be funny; play it that way!
The Miró started off with his String Quartet No. 7 in F Major, Opus 59, No. 1. This is a key that implies warm feeling and a sense of well-being. He uses this same key in his bucolic Symphony No 6, subtitled the Pastoral.
The first movement opens with a lovely, lyrical, and lilting melody presented by the cello. It was beautifully spun out by cellist Joshua Gindele and elegantly handed off to Daniel Ching in the first violinist's chair. He handed it off to the rest of the ensemble in kind.
The sensitivity demonstrated by the quartet's playing revealed what is so exceptional about the Miró. They realize that music is always moving somewhere. They plan where the phrases are going, who gets them next, who should step forward, who should retreat, and when the interpretation of the phrases should change.
Getting back to the performance….Usually in string quartets, the exposition repeats, and considering its exceptional beauty, it would have been welcome to it hear again. But here, we run up against one of Beethoven's more shocking innovations: inserting dramatic contrast when least expected. Instead of a second theme in a similar or contrasting vein, he launches an extensive fugal section intended to disrupt the mood. Eventually, the inserted darkness subsides and he returns us to the warmth of the opening. It is even more beautiful this time because we have emerged from such an alarming passage. The Miró brought this out in a subdued manner, saving the big guns for later use.
As the quartet continues, it surprises in both major and minor ways. For example, the scherzo starts out in a jocular manner, then suddenly explodes, only to eventually retreat as if it was all in good fun. In other places, he purposely shatters the unity of the ensemble by isolating the lines and assigning them to specific instruments.
You don't get very far without a surprise in the String Quartet No. 8 in E minor, Op. 59, No. 2 because it opens with two chords that, when reversed, are more usually found in an ending. There's silence, and then a long pause that leaves the listener hanging in expectation. (Wait, what's happening? Did I drift off for a moment?)
In fact, this is a pattern Beethoven repeats frequently as the movement progresses, albeit in fits and starts. Even though there is as much fury as there are lyrical passages in the proceeding music, the Miró always allows these two chords to bring us up short.
The slow movement presents a complete change of mood. It is a mournful and slow march, reminiscent of music for a funeral cortége. At one point the Miró allowed the underlying grief to surface, but mostly kept it quite restrained until the end. The scherzo combines elements of disorienting syncopation and sudden dynamic contrasts to create a canted feel. The lovely use of a Russian folk song is a welcome change.
The last movement is a perfect vehicle for the Miró's versatility. It starts out as a typical final movement marked presto, but eventually makes a even madder-than-usual dash to the finish line. The Miró's players brought the audience to the edge of their seats, hoping that the thing didn't go off the rails. It didn't.
The unusually structured String Quartet No. 9 in C Major, Op. 59, No. 3 is a natural for the Miró's flexibility. The first movement starts out with an introduction that has nothing to do with the remainder of the first movement. It is like an interloper who shows up and leaves upon discovering they've crashed the wrong party.
The second movement has a lonely and vacant feel dotted with sparse melodies. Instead of a scherzo, Beethoven surprises us with a menuetto of a lighter-than-expected nature.
For the last movement, Beethoven grabs a motive from the previous menuetto, turns it upside down, and launches it as the basis for a moto perpetuo with slower fragment overlays and bizarre fugues. Even though it falters frequently on its way to the final bar line, it bravely picks itself up again and again and restarts, keeping the eventual goal in mind—a splashy and dazzling fortissimo-driven send-off.
An aside: History mostly remembers Razumovsky from his role in sponsoring the creation of these three string quartets. It is a reminder that commissioning composers to write new works can be one path to leaving a mark on history. It doesn't have to be anything quite as grand or by such a famous composer. You would be surprised by how inexpensive it can be as well as how many terrific composers there are working today writing in a wide variety of styles from Neo-romantic to jazz and pop influences. What a way to enhance a wedding or other special event!