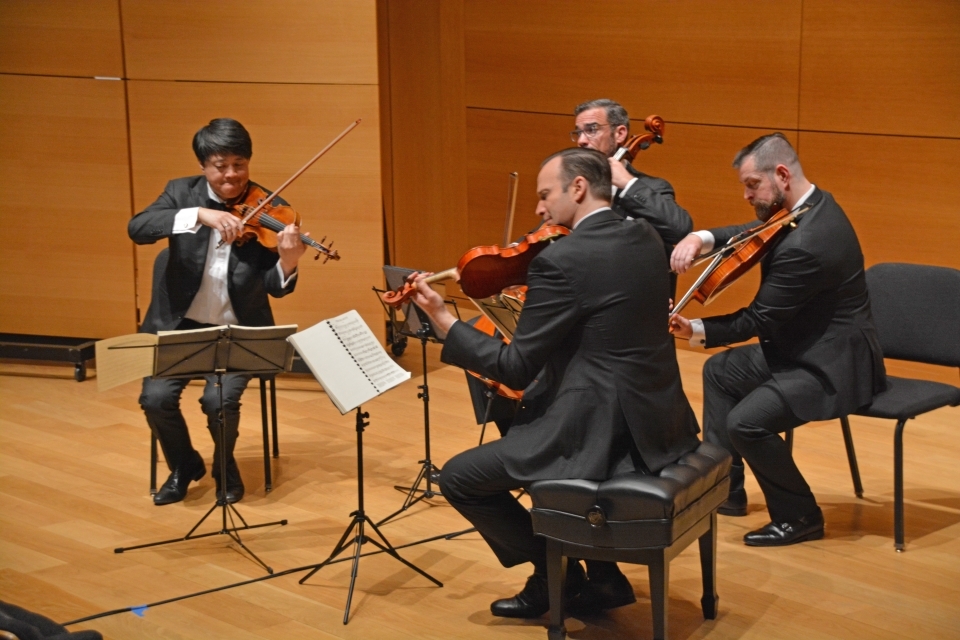 Photo: Lawrence Semrad

By Rob Laney for Theater Jones
The Miró Quartet, based at the Butler School of Music at the University of Texas at Austin, have distinguished themselves with innovative programming and an aptitude for versatility. That and more was revealed at the packed concert space in the Modern Art Museum of Fort Worth Saturday afternoon in a program presented by the Chamber Music Society of Fort Worth. Holding the start for late comers, each member explained the backgrounds of their instruments. Some copies of famous instruments, some original commissions, all intriguing stories that whetted the appetite for the Italian feast to follow.
Austrian composer Hugo Wolf and earlier Romantic German composers Robert Schumann and Felix Mendelssohn shared admiration of passionate love-singing like their southern neighbors down the road.

Beginning with Wolf's Italian Serenade, the gentlemen of Miró called all to gather 'round a violin melody played by Daniel Ching as if sung by a Venetian gondolier; accompanied by William Fedkenheuer on violin, John Larges on viola and Joshua Gindele on cello as if strummed on guitars. The ensemble's diverse talents projected Wolf's predilections for variety like a rowdy dinner table at a sunlit villa. Their four-portioned tones concocted a full palette by Ching's' savory sound, Fedkenheuer's spicy sweeps, Largess' lubricant olive oil and Gindelle's red wine "base."
The Miró Quartet are almost leaderless. First and second violins traded the front spot while the viola interjected gentleness as the cello laid down a winking and solid foundation. Each added a unique voice that more than complimented the other three. Listening eyes closed, or scribbling in a notepad, timbre more than range told which instrument took the fore. Ruddy cello, silken viola, pearlescent second and citrusy first, their unique personalities subsumed to a whole greater than the sum of their quarter parts.
The room had yet to settle when the next carbonara course was served, Schumann's String Quartet in A minor, Op. 41, No. 1. One of the greatest love stories in all classical music history, after Robert and his soulmate Clara wed she encouraged him to write not just for piano but for strings. His new hand at this idiom needed to be held together by the Miró Quartet's marcato stresses sublimating the writing from keyboard to bowed strings. Drastic phrasings hewed against classical era conventions of harmony and texture with synchronized midline accents.
While slower, the next movement shifted from one luxurious sonority to another with no repose. As the top three players traded colorful breaths the cello's singly held notes tastefully cut the air between them. Their hegemony of dynamic, articulation, and especially division of labor seemed telepathic. License for each to embrace their personal desires never belied a solid collective character. Even their rate of vibratos supported a unified front. Schumann's signature originality reared its unique head near the end of the last "Presto" movement when the Miró Quartet deftly changed channels from tip toe triplets to eight-handed heavy lifting to the locked-in straight overtone sound of a hurdy gurdy. Robert took the chances and these guys gave it back.
Post intermission, Mendelssohn brought his question "Is es wahr?" (or "Is it true") in the Quartet in A, Op. 13. Does a young Felix Mendelssohn's girlfriend wait for him? Will his abrupt emotional lines and waves of hormonal harmonies wait for an answer? Lead melodies soared as each soft accompaniment stayed present as a diamond. Never employing the same touch twice, each treatment of phrase commented on what preceded it. Appropriately impetuous.
Bookending Wolf's quasi-strumming from earlier, the "Intermezzo" integrated a likewise rigorous consensus. When this group played slower it was easier to grasp their profound talents. After which a static silence finally befell the space. Pro tip: if one needs to loudly clear one's throat, best if possible to wait until the forte portions to regain your tracheal clarity.
The encore of Ashokan Farewell by American folk musician Jay Ungar, used in Ken Burns' documentary The Civil War, was an unexpected yet an endearingly warm wrap-up to a dynamic recital. Congratulations to The Miró Quartet and especially to the CMSFW for respecting such inspiring musicians with not a single empty seat.