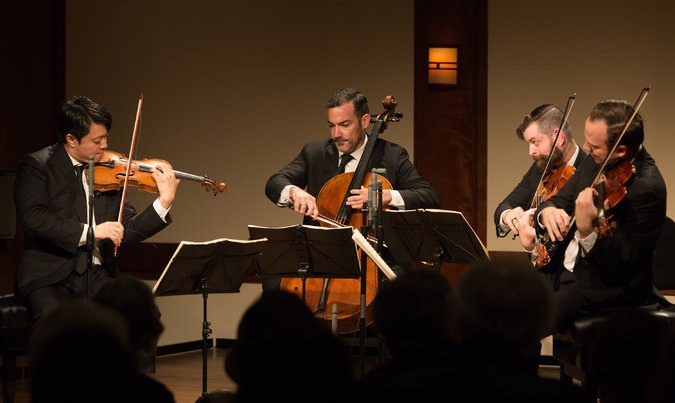 By Anthony Tommasini for The New York Times
Chamber Music Society of Lincoln Center - Rose Studio
In a program note, John Largess, the violist of the impressive Miró Quartet, says that playing Alberto Ginastera's cycle of three quartets is a "sonic ritual" embodying the "spirit of magical realism" exemplified by Latin American writers like Gabriel García Márquez.

On Thursday night Mr. Largess and his Miró colleagues brought that description to life with fiercely intense accounts of Ginastera's three quartets at the intimate Rose Studio, where they were presented by the Chamber Music Society of Lincoln Center in its series of string quartet cycles.

This year is the centennial of the birth of Ginastera, who died in 1983. Yet the works of this pivotal Argentine composer, which boldly combine strands of South American folk music with complex contemporary techniques, remain overlooked by many major institutions. It says something that in more than 40 years, the Chamber Music Society had presented only one of Ginastera's three quartets before this program.

The First Quartet (1948) is the most overtly nationalistic of the three, with motifs and rhythms inspired by the pampas, the grassy Argentine plains. The rigorous first movement bursts with evocations of gauchos. Bartok's influence pervades the dark Second Quartet (1958), written in five rhapsodic movements, starting with a wild-eyed, pummeling Allegro rustico that sounded almost dangerous here.

Ginastera's Third Quartet (1973) features a soprano singing settings of Spanish poems that deal with longing, desire and the power of music to vanquish monstrous darkness. The soprano Keira Duffy brought rich sound and gripping expressivity to the performance. How can this stunning piece not have become a staple of the repertory?
Photo: Karli Cadel