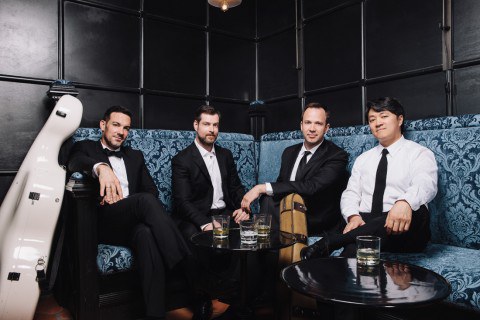 By James D. Watts Jr. for Tulsa World
It was one of those serendipitous moments that make a concert even more memorable.
As the Miró Quartet performed the last three works Ludwig van Beethoven composed in his life Sunday evening in the Tulsa PAC's Westby Pavilion, the audience could see behind the players the evening sky growing darker and darker.
It was still twilight while the quartet performed the Op. 131, the epic seven-movement piece that is performed without interruption, and which roams through an equally epic array of emotional states — the mournful opening that is loneliness distilled into its sonic essence, a manic jocularity, an uneasy tranquility as a warning motif from the cello punctuated the serene see-sawing melody of the high strings, concluding with a furious intensity.
But during the performances of the Op. 135 quartet, and the second finale Beethoven wrote for his Op. 130 quartet — two works as sunny and playful as the Op. 131 is dark and troubling — night closed in, until all that could be seen through the translucent curtains over the Westby Pavilion's three large windows was darkness.
And that served to underline some of the comments Miró Quartet violist John Largess made in his introductory comments about this music and the time in which it was written.
Largess said he thought of this program — the final concert in Chamber Music Tulsa's ambitious Beethoven Winter Festival that featured the Miró Quartet performing all sixteen of Beethoven's strings quartets in compositional order — as "The Great Mystery" concert.
"Beethoven never did anything without a reason," Largess said, which makes the three works performed Sunday night even more unusual, in that Beethoven was not commissioned to write them. "He couldn't help but write this music."
These works were written during one of Beethoven's darkest periods, from the attempted suicide of the nephew he considered a son, to his own final, fatal illness. Yet the spiritual and emotional turmoil within the Op. 131 quartet gives way to the positive, almost joyous music of the last two works.
Indeed, the Op. 135 quartet, and the quartet's performance of it, was filled with lightness, from their deft handling of tempo and dynamics in the second movement, to the sumptuous tone they brought to the lullaby-like third movement, to the dramatic question that opens the final movement ("Must it be?") and how the answer ("It must be") led to a rollicking dance-like section, one last jig for joy before the sun sets one last time.
That, at least, is one way of hearing these works. As Largess said, Beethoven's final quartets have to them an almost spiritual quality that "goes beyond human experience," adding that "the answers to these enigmas can only be found in your own hearts as we play this music."
It was a triumphant conclusion to Chamber Music Tulsa's most ambitious undertaking, an experience that those who participated in it will not soon forget.